Nederlandse animatiefilm gemaakt met Grid van Sun Microsystems


klik op afbeelding voor site

Blender Institute realiseert 'open film' via Sun's Network.com
Amersfoort, 14 april 2008- Network.com, het cloud computing (of grid computing) initiatief van Sun Microsystems, is recentelijk beschikbaar gekomen in Nederland. Het eerste project van Nederlandse bodem gerealiseerd op Network.com, is het 'open film' project van het Amsterdamse Blender Institute. De korte 3D-animatiefilm is gemaakt door animators uit de open source Blender Community. Sun heeft bijgedragen aan de ontwikkeling van de film door gratis CPU-uren via Network.com beschikbaar te stellen aan het Blender Institute.
De 3D graphics en animaties in de film zijn volledig gemaakt in Blender, een open source applicatie dat ook op Netwerk.com beschikbaar is. Blender beschikt over een volledig geïntegreerde suite van tools voor het modelleren, vormgeven, animeren, weergeven (renderen), en post-productie van 3D content.
"Het primaire doel van de film was om onze software geschikt te maken voor complexe omgevingen en gedetailleerde karakters met miljoenen haartjes. Dankzij de enorme rekencapaciteit van het Sun Grid heeft ons team in alle vrijheid kunnen kiezen voor de kwaliteit en visuele rijkdom van de film", aldus Ton Roosendaal, producer, hoofdontwikkelaar van de gratis 3D applicatie Blender, en directeur van het Blender Institute.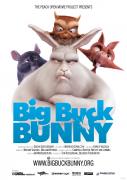 Big Buck Bunny
De eerste open 3D-animatie film van het Blender Institute heet 'Big Buck Bunny'. De film is vorige week in première gegaan. 'Big Buck Bunny' is een komedie over een goedgemutst konijn dat wordt lastig gevallen en gepest door drie knaagdieren. Uiteraard laat Big Buck het hier niet bij zitten en neemt op komische wijze wraak. De film wordt verteld met hedendaagse technieken in de typische jaren vijftig cartoon traditie.
Niet alleen is uitsluitend open source software gebruikt, maar ook de film zelf, inclusief al het materiaal uit de animatiestudio, komt vrij beschikbaar voor iedereen om van te genieten, van te leren of te hergebruiken. Dit open concept is waar de internationale Creative Commons organisatie zich sterk voor maakt. De Creative Commons licentie wordt nu vooral gebruikt door individuele artiesten of muzikanten op internet, maar ook in toenemende mate voor video-, film- of animatieprojecten.
De film wordt uitgebracht op 35mm film formaat, HD en DVD. Kort na de DVD-lancering, begin mei, is de film voor iedereen vrij beschikbaar via internet.



Big Buck Bunny: http://www.bigbuckbunny.org/
Blender: http://blender.org
Blender Institute: http://blenderinstitute.nl
Creative Commons: http://creativecommons.org
Sun's Network.com: http://www.network.com/apps/blender.html
Omschrijving hoe cloud computing is ingezet voor de film: http://peach.blender.org/index.php/our-renderfarm-and-how-it-works/
Technorati Tags
sun
,
blender
,
creative_commons